This week's Toddle Along Tuesday is on 'How You Met Your Significant Other'.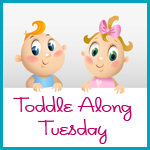 I have an old post that tells this story, but I came across this old photo to add just for fun.
Please don't laugh or make fun of me, or mock... when we say it feels as though we were children when we met (and dated and got married,etc.), it's because we WERE children. At least at the beginning. 
The story began here...
We both look exceptionally dorky, too. I'm in purple, he's in green, that's all I'm going to say...
If you're at all interested in the WHOLE story of 'Our Beginning' in summer this year. No mocking!